Wiped From The Web
How Meta virtually erased the Gear VR and Oculus Go
ARTICLE
As I sit down to write this article, it's early October 2023 and the Meta Quest 3 is less than a week away from it's release. A quick visit to Meta.com and it looks like the Quest series is the only hardware Meta has ever released, but of course this is far from the case. Although the Quest is the culmination of years of research and development by Oculus/Meta, it's previous hardware is what paved the way to where we are now. So what happened?
Before we get deeper into this tale, I feel like I should tell you about our experiences building the Master List, as we quite literally got to watch these changes occur week by week until reaching the point we are at now.
No Internet Connection
Before building this website, the first thing we needed to do was compile a list of every Samsung Gear VR and Oculus Go title that had ever been released. This meant the obvious starting point was Oculus.com
Navigating to the Gear VR section, we begun our quest (no pun intended) by searching through the Browse All section. This is where the frustrations started. The Oculus website would only load 16 titles at a time, loading more once you had scrolled to the bottom of the page. To gather all the information we required, we'd right click and open each title in a separate browser tab. We soon discovered that after accessing somewhere between 50-70 titles, instead of loading the requested page, we were met with a "No Internet Connection - Try again" error.
Our first thought was this might have been some sort of anti-scraping safe guard, but we were working at human speeds, nowhere near what a bot could achieve. It took swapping between normal and Incognito modes, and using multiple browsers in an attempt to work around this problem. Even then, eventually every web browser would be blocked and we would have to wait a few hours before proceeding. Adding to the frustration was that all of this work was being done on a laptop, which meant on occasion we would accidently left click on a title, forcing us back to the start of the Browse All page. Not so bad at the beginning, but incredible frustrating once several hundred titles in. To be honest, I'm surprised the laptop wasn't "accidently" destroyed in the process.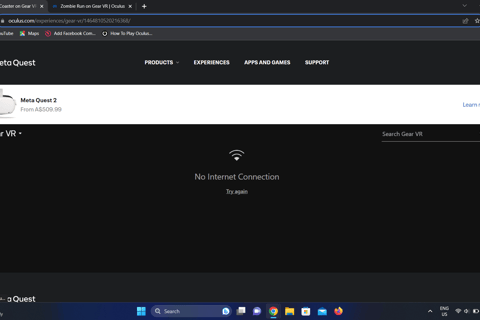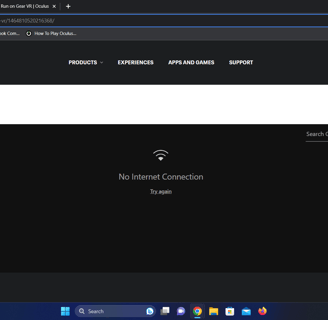 This page isn't working...
A few days later, and the same problem was occurring after opening up the pages for too many apps, yet the error message had changed. Now we were being shown a "This page isn't working - too many redirects" error. Looking back, Meta was clearly up to something in the background, but we didn't know that at the time. We continued copying information about titles into the Master List, and after about two weeks this part of our quest was complete.
The next challenge was finding information on Delisted titles, as these no longer showed in the Browse All listing. Fortunately, one of our team had been involved with the Gear VR since before it's release, and had a massive amount of titles in their personal library. By Google searching "App Title Gear VR" we would get a direct link to that apps details on Oculus.com and so, on we went, adding all Delisted titles to the Master List.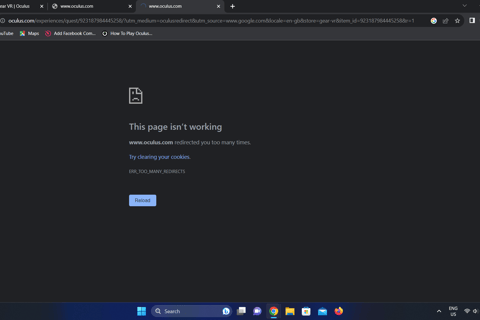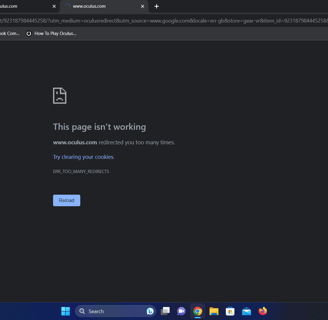 The final stage was going through a now defunct Resilio share, a Telegram channel and finally a Torrent where we found a few dozen additional delisted apps that we didn't have in the accessible Oculus library.
Now that we had our list, it was time to start testing titles to see if they still worked. Attempting to add a title to your library using to Oculus app now gives an error message, so we jumped back to Oculus.com and started adding every free app we didn't already have to our library. Two days later and that was done too.
You can't browse here...
That's when the next oddity appeared. We could no longer access the Browse All section. Looking back, it really feels like the Gods smiled upon us, allowing the completion of the Master List before this new error reared it's head.
Each section showed a few highlighted titles, and clicking on the section title would take you to the full list of those apps. A little arrow next to the title name showed this was possible.
Every section still had the arrow and still worked, except Browse All.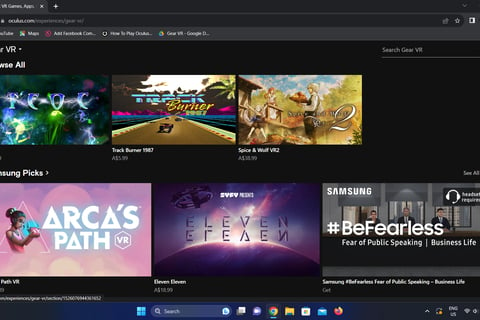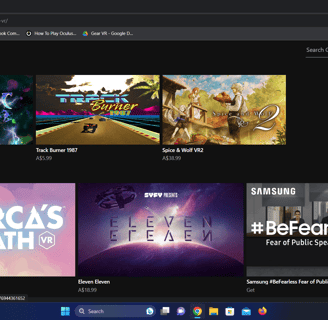 Changes are coming...
It's now the end of September and another interesting change had occurred. Every page now had a Meta banner at the top, advertising the Quest 2. The drop down categories at the top had also changed with the Rift section now labeled PCVR.
It was no longer possible to access the Gear VR and Oculus Go (sorry, Meta Go) libraries directly through the website. However there was a work-around. By Googling "Gear VR apps" and following the link, you'd get where you wanted to go. This worked for about two days.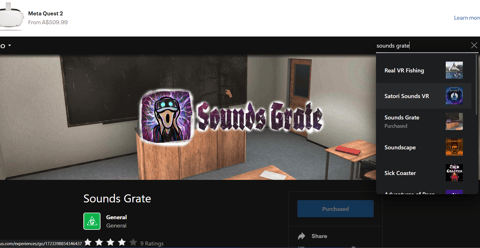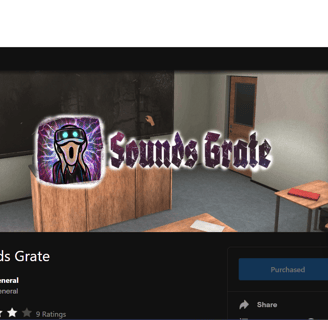 Wiped from the web
It's now the beginning of October and the final changes to the Meta website have been implemented. The Gear VR and Oculus Go pages are gone.
Googling an app title and Gear VR (ie "Darknet Gear VR") still shows a Google entry with a direct link, but following that link on the web just takes you to the Meta.com homepage. You can however, follow that link on a device with the Gear VR Oculus app installed and it will open the correct page in the app - but as far as search engines are concerned, that page is gone.
Because of the way the original website was built, The WayBack Machine was only able to scrape the headers and the footer, not the core content. With the direct app links now acting as redirects, any images from those pages have been removed from Google Images. If other sites talked about a title, that content is still available, but if it wasn't, it's like the app never existed.
This is a huge part of the history of modern virtual reality wiped from history, gone forever.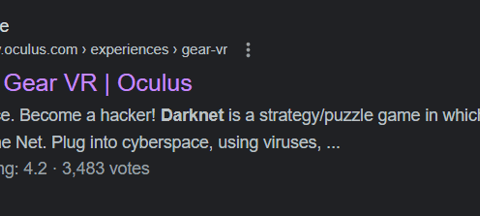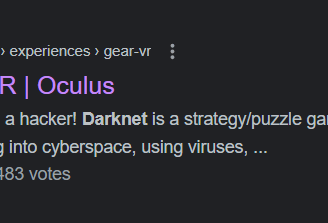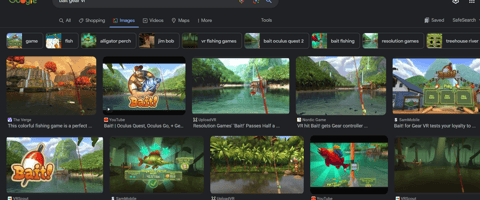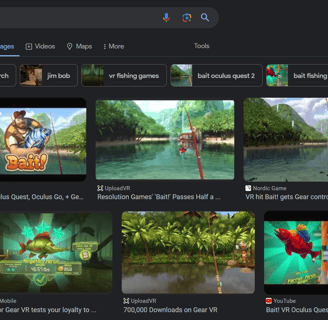 Gone. But not forgotten.
But it won't end there. We won't let it.
As of writing we are still in the process of testing all of the apps we have been able to scrape together. Every day we post to Instagram, X (Twitter) and Facebook celebrating the anniversary of apps released. We will be reaching out to the developers that are still in business to gather APKs for paid apps we haven't been able to source. And the final step will be recreating as much of the app library as we possible can here.
Long live the Gear VR. Long live Oculus.